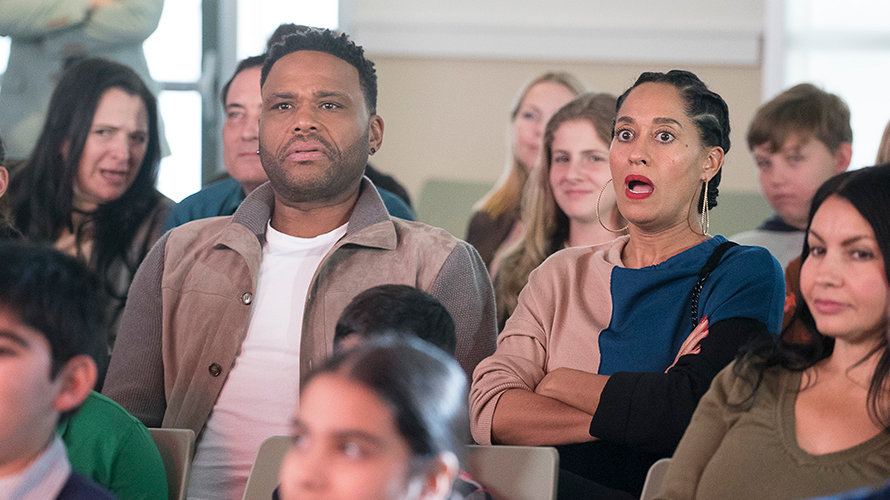 The decision was due to "creative differences," not advertiser concerns
Black-ish is usually one of ABC's most brand-friendly shows, but the network decided not to air a politically charged episode of the sitcom that could have potentially alienated some of those advertisers.
The network said it had pulled an episode of the comedy, which had been scheduled for Feb. 27, because of "creative differences" with creator Kenya Barris. The episode would have touched on the "troubled times" of the last year, including, reportedly, a debate about the protests of some NFL players who kneeled during the national anthem.
The decision to pull the show was a creative one and not connected to any advertisers, according to a source. No advertisers expressed discomfort about the episode to ABC nor did they threaten to pull their spots prior to the network's decision.
"One of the things that has always made Black-ish so special is how it deftly examines delicate social issues in a way that simultaneously entertains and educates. However, on this episode there were creative differences we were unable to resolve," said an ABC spokesperson in a statement.
"Given our creative differences, neither ABC nor I were happy with the direction of the episode and mutually agreed not to air it. Black-ish is a show that has spoken to all different types of people and brought them closer as a community and I'm so proud of the series," said Barris—who co-wrote and directed the episode—in a statement.
ABC had promoted "Please, Baby, Please" as a "special episode." During the episode, Dre (Anthony Anderson) is trying to put his crying baby son Devante to sleep and tells him a bedtime story about what the network referred to as the "troubled times over the last year" and the "current state of the country."
It included a scene involving a debate over athletes who kneel during the national anthem at football games, according to Variety.
Even if no advertisers had planned to pull their spots, the national anthem player protests have made brands skittish all season.
In November, Linda Yaccarino, chairman of advertising sales and client partnerships for NBCUniversal, told Adweek that some NFL advertisers were unhappy about the controversy over protests and made it clear that they might pull out of games if coverage of those kneeling players continues.
"A list of advertisers have made themselves very clear: If you continue covering the political coverage of the issue, we will not be part of the NFL," Yaccarino said. "Because think about it: They have half the country that is cheering about that, and they have half the country that is emailing them, saying, don't do that. So that's a real thing."
Even if no advertisers had planned to pull their spots, the national anthem player protests have made brands skittish all season.
While episodes of TV series are occasionally postponed because of their uncomfortable proximity to real-life current events—especially mass shootings or other terrorist attacks that parallel storylines—it's rarer for a completed episode to be shelved indefinitely.
The most recent example of this was two years ago when NBC shot a Donald Trump-inspired episode of Law & Order: SVU, about a Trump-like presidential candidate whose White House run is derailed by a rape accusation. It was initially postponed until after the 2016 election—executive producer Dick Wolf told reporters in early 2017 that he thought the episode would air that spring—but it never saw the light of day. (The controversy over the shelved episode inspired a court case in The Good Fight's first season.)
In 2013, NBC pulled an episode of Hannibal in response to the Boston Marathon bombing, only making it available to view online. And an abortion-themed episode of Family Guy in 2010, which had been set as the season eight finale, never aired in the U.S.
During its four seasons, Black-ish hasn't shied away from tackling tough topics, including police brutality, how different generations use the N-word, the fallout from the 2016 election and postpartum depression. And advertisers have never pulled their spots from any of those episodes, according to a source.
On the contrary, Black-ish has more ambitious brand partnerships than many of its ABC peers. Executive producer Jonathan Groff told Adweek in 2016 that Barris decided to have Dre work at an ad agency in part to give the show a more organic way to incorporate brand partnerships. "That's the kind of cool thing about our show, from the integration perspective, that we can use Dre's work at Stevens & Lido," Groff said.
The show has featured several integrations with brands like Buick and State Farm Insurance. A season-long Microsoft partnership last season culminated in a 60-second branded content spot with Anthony Anderson and his castmates.
Credit: http://www.adweek.com/tv-video/abc-pulls-a-black-ish-episode-that-would-have-touched-on-national-anthem-protests/